NAME: liz
AGE: 19
STRANGEST THING IN YOUR PURSE: ... i don't know.
BEST THING IN YOUR PURSE: my sketchbook. or my eyeliner. i am obsessed. its sad.
&PICTURES to the MAX: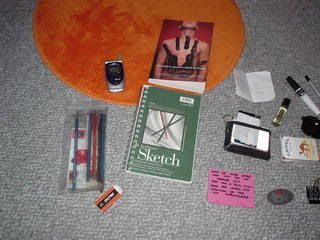 green tea bags. wallet. camel lights. sunglasses. work schedule. different colored sharpies. lighter. change purse from chinatown (50 cents!). xxl mascara. kohl eyeliner. pot. my bowl. name badge from work. "the heart is deceitful above all things" by jt leroy. sketchbook. pencils. various hair clips. perfume oil. mirror from sephora that has a clockwork orange quote on it. quartz stone to encourage creativity & peace of mind. urban decay eyeshadow in 'uzi'. cell phone.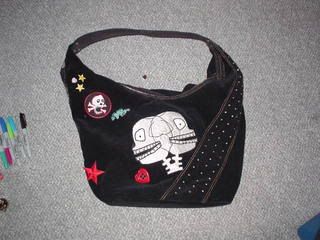 this is the bag itself, since you're all probably wondering how in the hell i can fit all that junk.

its a marc jacobs corduroy hobo bag. and i am in love with it.